(Posted by Anne Seneca, CEEF Director of Marketing)
My middle kid Claire, is always looking for fun new ways to utilize her art cart. This well-loved cart is filled to the brim with markers, crayons, colored pencils, paint, clay, shrinky dinks, scissors, chalk, craft punches, yarn…you name it. If you can craft it, we've done it.
Since being on lockdown, we're always looking for new ways to get our crafting wiggles out – and learn at the same time! So today we introduced a new art medium to the ever overflowing art cart: salt.
The technique of "Salt Art" has been around for a long time, and it's a super fun way to utilize materials you already have around the house. It's also a colorful way to introduce your at-home artists to the chemistry involved with this project, while capitalizing the "A" in "STEAM"! We popped over to A Dab of Glue Will Do for inspiration.
For this STEAM project, you'll need the following materials: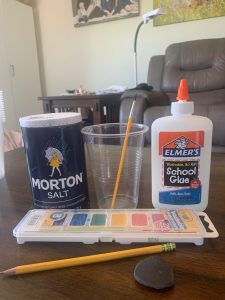 Materials
Mixed media paper like cardstock (we used stiff foam board)
Pencil
Glue
Table salt
Watercolor paints
Paint brush
Cup with water
Start by sketching out your project shapes. Claire chose to do a STEAM themed board!
When you're drawing is ready, pipe over your pencil marks with glue. Claire used a flat tipped bottle for the larger drawings and a smaller tip for going over finer lines.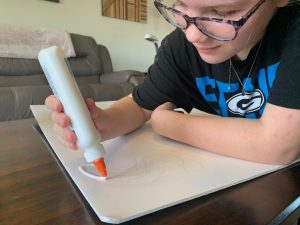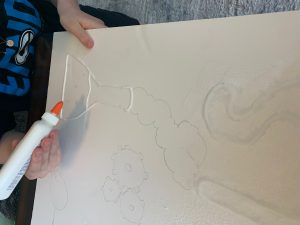 Once your board is glued up, shake salt all over the glue. Make sure you shake, shake, shake to cover it all! No shiny spots should show.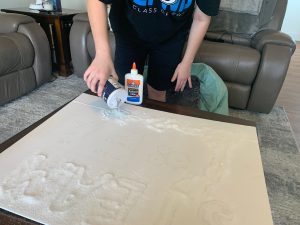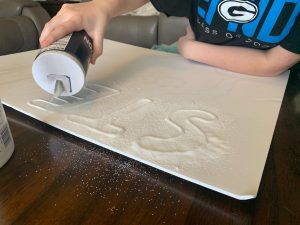 Let the glue and salt sit for at least 30 seconds before you shake off the excess salt to reveal your new crystallized artwork.
Now you can start "painting"! Dip your paintbrush in a little bit of color and a splash of water. Gently dot along the glue lines and watch the watercolor instantly get absorbed by the salt. Cool!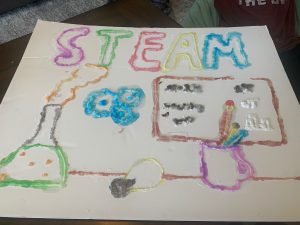 Why does this happen?
The salt absorbs the water. Salt is hygroscopic, which means it can absorb both liquid water and water vapor in the air. There are many other hygroscopic substances around, including wood, clay, and wool. And have you ever found one of those "silica gel packets" in food or a shoe box? That substance is also hygroscopic and is placed there to absorb moisture so your products don't get ruined.
See the example below:
Enjoy this fun STEAM activity at home today!