I got locked in an Escape Room with my kids…and we all lived to tell about it!
Escape rooms are all the rage right now, and I participated in one a couple of years ago with my mom and my siblings (and a man and his son that we didn't know). Doing escape rooms with family members has its pros and cons, but for the most part we worked well together and escaped the room (although I'm pretty sure we needed a few extra minutes, which the owners kindly gave us).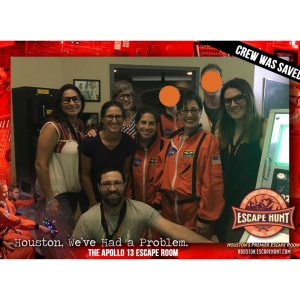 While normally I would do anything and everything to avoid getting locked up with my pubescent boys (who are under 11 months apart in age), this was actually an incredible experience for all of us. Escape rooms are a fantastic way to teach STEM concepts and critical thinking skills under the guise of a game. I was able to watch my boys work together, problem solve, and deal with "failure" by trying new tactics.
I ordered this one on Amazon, and it was definitely a good beginner game for us. Once I knew they enjoyed it, I proceeded to order another couple online that I could print from home. We haven't done those yet, but we plan to do them this weekend.
We started out by opening the box and investigating the contents. There was a sheet with instructions, a large "note card", a wheel that included dials and symbols, and several sealed envelopes. As instructed, we read the first note card with the instructions and the back story. And don't worry: clues and even the solutions are provided online if you get stuck.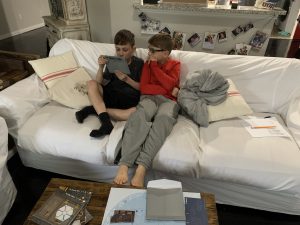 The first card basically had instructions on how to use the enclosed wheel to "solve" each puzzle and move on to the next envelope.
Just like a "destination" escape room, we had to use every piece of the game we had access to in order to search for clues. So we might find clues on the outside of the last envelope that we needed to solve the second puzzle.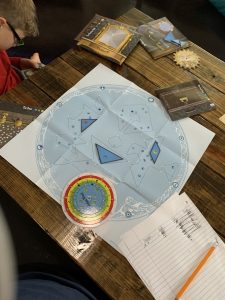 We actually had to look up a clue one time because my boys were getting frustrated. The way the clues are provided is nice because you have to click to uncover it. That way you don't accidentally see a clue or solution you don't want to.
And because I know you're dying to know whether or not we made it out…