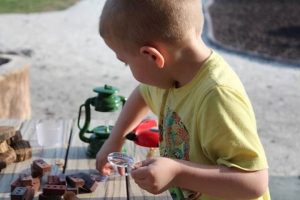 Just because school's out, it doesn't mean the learning should stop. As health and safety concerns have more people opting to stay home, we've curated a guide of fun-filled, educational activities that don't require leaving the house. Check out these hands-on activities that will keep your students engaged and entertained with science, technology, engineering and math.
 Creative STEM activities
Learning to think outside the box and use deductive reasoning are just a few key problem-solving skills students learn from STEM. Exploring trial and error techniques teaches students to overcome challenges and provides the opportunity to celebrate little victories. These activities from Little Bins for Little Hands use household items to bring learning home.
Catapult Challenge: Using rubber bands, pencils, marshmallows, LEGO, popsicle sticks and more, kids can learn about physics while creating a catapult that will double as an educational toy.
Balloon Rocket: Race to the finish using a balloon, a straw and string while exploring Isaac Newton's Third Law of Motion (or here for a simpler explanation).
100 Cup Tower Challenge: Learn the fundamentals of engineering as kids see what it takes to strategically balance and stack 100 cups.
Build Structures: Using toothpicks and candy or other supplies, kids will become junior architects building towers and bridges.
Energized STEM activities
Just because you're staying home doesn't mean you can't be active. These motion-powered projects are the perfect way for kids to release some energy while learning about sports science. The best part is that these activities from the Science Buddies Hands-on Project Survival Guide don't require too much space and can be done inside a large room or in the backyard.
Slime STEM activities
Learning about polymers is a sticky science but these recipes from STEM Powered Family make it easy and memorable. From potions that change color with heat to learning about magnetism with "troll bogeys" to edible marshmallow play dough, each concoction teaches a different lesson. For easy, ready-to-use slime kits and other STEM toys, check out KiwiCo's spring break sale.
Computer Coding for kids
As technology becomes an increasingly important part of everyday life, coding is no longer a skill just used by computer scientists. Basic computer coding is used in a wide variety of careers and according to Tech News World, "coding is a necessary literacy in the technological age." Take advantage of this time to help your student get ahead with Tynker Coding for Kids. You can also find "unplugged" coding activities (as well as many others) on our Energy Day site.
STEM movie marathon
Turn your living room into a mini movie theater, complete with popcorn and other snacks, before breaking out the STEM-inspired cinemas. From astronauts to science fiction to inspired female heroes, here are a few favorites:
"Flubber"
"Back to the Future"
"Honey, I Shrunk the Kids"
"Tomorrowland"
"Big Hero 6" – Check out these science activities, like making oobleck, inspired by the movie.
"The LEGO Movie"
"Wreck It Ralph"
Hidden Figures"
"Apollo 13"
"Spare Parts"
"The Martian"
"Interstellar"
Make your own hand sanitizer
If you're concerned about hand sanitizer shortages, here's an easy scientific solution; make your own! Simply whisk together 2/3 cup rubbing alcohol and 1/3 cup aloe vera. An optional step is to add vitamin E to make it softer. The World Health Organization (WHO) has official instructions for making your own sanitizer, so just be aware that anything short of this may not actually work well to fight COVID-19. The CDC actually recommends washing hands over using hand sanitizer, but this is helpful for the times when you can't wash your hands.
Apply for a STEM scholarship
The Energy Day Academic Program provides opportunities for students and teachers to earn a number of STEM scholarships and awards. In celebration of the 10th anniversary of Energy Day, we've kicked off our Energy Day 2020 Media Contest. Teachers and students can win up to $300 for producing a short video and/or designing an Energy Day mascot. All entries must be submitted by May 31.
Our friends at Texas Girls Collaborative Project have an ongoing list of resources  Mommy Poppins and Science Bob also have fantastic ideas for activities for all ages.