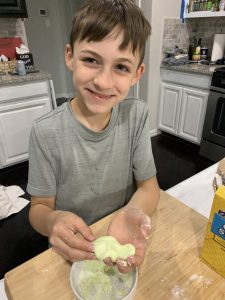 Does this look like a kid who is bored at home and hates learning? Admittedly, I don't do as many experiments and activities as I'd like to do with my kids, but this one was so easy! I really didn't do anything except take the pictures. There was a total of about 10 minutes between the time my kids said they wanted to do the activity and us actually finishing.
We've made ALL the slime recipes, and we love messing with Oobleck in our house, but let's face it: most of that stuff gets pretty messy. This experiment is not only quick and simple, but you probably have the TWO ingredients at home right now. And here's the BONUS: if you use antibacterial soap, you're getting your kids to clean their hands without them realizing it (super important during this COVID-19 situation).
I originally found this activity on Mommy Poppins and followed a link to this site. Because it looked so easy and I had the ingredients (usually the biggest issue when my kids find something online they want to try), I immediately went into the kitchen with my boys and got out the necessary materials.
Materials
Corn Starch
Dish Soap (colored soap makes colored putty)
measuring spoons
a small bowl
a spoon to mix the ingredients (not pictured)
Directions
Start by adding 1.5 TBSP of dish soap to your bowl.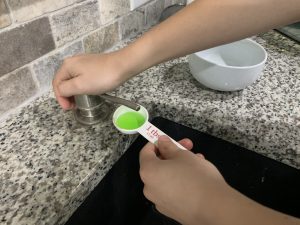 Next add 2 TBSP of corn starch to the soap.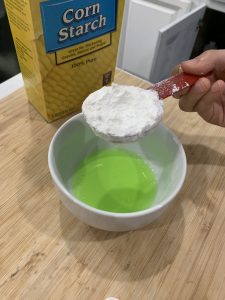 Stir them together.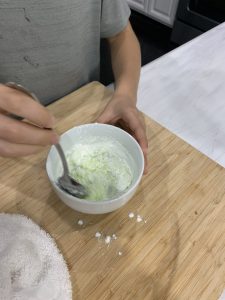 If your mix is too runny (which was the case with ours), add a bit more corn starch. Alternatively, if your mix is too dry, add more soap. Note that it doesn't take much of either to change the consistency, so add a little at a time and stir.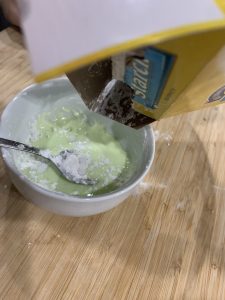 When the mixture becomes too difficult to stir, dig in with your hands to finish the job.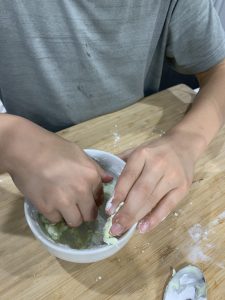 Finally, take it out and enjoy your creation!